Aldo Colombini & Rachel Wild - Wednesday, February 22, 2012


Where:Eddie's Trick Shop's Marietta Location
When: Wednesday, February 22, 7:00pm
Cost: $10 for Ring 9 members and $20 for guests


STEVE MARSHALL - Wednesday, September 7, 2011
Direct From Japan
Presenting his all-new "Asian Astonishments" Lecture


Where: Eddie's Trick Shop's Marietta Location
When: Wednesday, September 7th, 7:00pm
Cost: $10 for Ring 9 members and $20 for guests

This lecture features beautiful magic and amazing routines from Steve's award-winning "Asian Astonishments" column that ran for 3 years in M-U-M magazine. There will be something for everyone - close-up, parlor, and stage magic invented by some of the most creative and talented magicians from Japan and throughout Asia.

Steve adds additional tips and presentation ideas to those effects, plus he will teach some of his own creations. He will also offer advice on performing in other countries, and share stories about what he has learned living abroad for many years. You will learn tricks with rubber bands, cards, a calculator, dry erase board, coins, and lemons.

Steve attended Ringling Brothers Barnum & Bailey clown college, followed by five years touring with "The Greatest Show on Earth" in the USA and on their first tour to Japan. He spent two years in New York City performing street magic and at corporate events. Following that, he spent 8 years performing in theme parks including Disneyland in California, Universal Studios and Walt Disney World in Orlando, and at Tokyo Disneyland where he was the first American performer hired to perform the comedy magic spot in the Diamond Horseshoe Review.

He currently performs close-up magic at Tokyo magic bars, and presents a "Las Vegas" themed illusion show for big corporate events and hotel dinner shows throughout Japan. Steve won First Place at the Florida State Magic Convention; he was awarded the Leslie P. Guest M-U-M Award of Excellence from the Society of American Magicians for his Asian Astonishments column; he was the first American awarded the Japan Close-up Magician's Association magic circle fellowship; the first Western magician allowed membership in the Japan Professional Magician's Association; and he was awarded the title Honorary Professor Emeritus at the Dong-A College in Mokpo South Korea for his presentation on the performance of magic for an accredited magic course.

What others are saying:
"He's a westerner who has adopted an Eastern aesthetic for magic tricks, and this makes for a totally unique experience. See his lecture!" - Joshua Jay

"Steve's lecture had some real useful gems of magic that very few magicians know about. You'll learn fun effects from a real professional who's been around the world making a living doing magic." - Kostya Kimlat

"It was a solid lecture with literally something for everyone. I came away with 2 or 3 items that are going to end up in my bag of tricks." - President, SAM Assembly 266

"People were pleased with the fresh approach and innovative ideas. I would highly recommend Steve's magic lecture for your club." - President, IBM Ring 170

Please plan to join us on Wednesday, September 7th. It's going to be a fun, very magical night.
GREGORY WILSON - Thursday, June 16, 2011


Where: Eddie's Trick Shop's Marietta Location
When: Thursday, June 16, 7:00pm
Cost: $10 for Ring 9 members and $20 for guests

Please Join Us For A Fabulous Evening of Magic & Laughter!

The emphasis here is ENTERTAINMENT. Besides learning the secrets of a ton of FABULOUS & FUN Stage, Close-Up and Impromptu Routines -- you'll also experience a rip-roaring, fast-paced, high-energy, laugh-out-loud, audience-involving SHOW!

Gregory Wilson is a two-time FISM award-winner with 15 best-selling instructional DVD's on the market. In 1998, he was also awarded (by the International Brotherhood of Magicians) as the Most Creative Magician of the Year!

He has contributed scores of original effects to MAGIC, Genii, Linking Ring, MUM, Arcane, Penumbra, Magic Menu and other magazines-as well as a full chapter in Paul Harris' The Art of Astonishment, a chapter in Harry Lorayne's Best of Friends 3, a chapter in John Lovick's Switch and a chapter in the wildly popular Magic For Dummies.

From close-up to stage, there's a little something for everyone. You'll learn:

Exact Change: A soon-to-be stunned spectator names a number from 1-100. You remove all the change from your pocket and the total matches exactly! It has fooled some of the best minds in magic: Banachek, John Kennedy, Chris Kenner, Paul Harris, Bob Cassidy, Cyril and many more.

Bounce/No Bounce: Sounds cliché to call something a magician-fooler, especially with such a well-known prop. But wait until you see it.

Coffeehouse Conjuring: With props found only in a coffeehouse (coffee, cups, lids, straws, napkins, sugar packets, stir sticks, tea bags, etc.), you'll be doing impromptu miracles available on every other street corner around the world.

Silverware Swindle: A knife and fork scam that has twisted magicians' minds who then twisted Greg's arm to finally put on the market.

Rubicon: In Greg's professional repertoire for years, this ground-breaking Rubik's Cube routine will soon be seen on Cyril's new TV special.

Plus, a whole lot more: Including Greg's highly visual and mid-air acrobatic card work.
BRUCE KALVER - Monday, April 4, 2011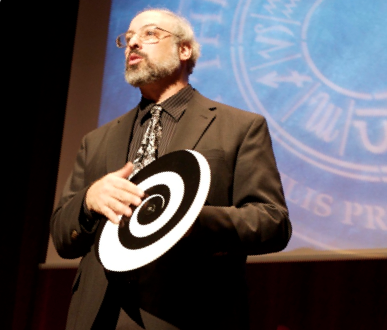 Bruce's Lecture Flyer (pdf)

Where: Eddie's Trick Shop's Marietta Location
When: Monday, April 4, 7:00pm
Cost: $10 for Ring 9 members and $20 for guests

Bruce Kalver has been working professionally for over 40 years. Billed in the early years as "Rhode Island's Youngest Professional Magician," his magic education started at the age of four when his grandfather, Samuel Woolf, who was himself a magician and an assistant to Houdini, began to teach him the art. At age six, he was ready to start his career.

His work in magic has taken him all over the world. He has toured with his wife and partner, Arlene, on cruise ships sailing the Atlantic and the Caribbean, in Dinner Theatres all over the country, and at trade shows where they added their magic touch to many products and services.

Bruce has been showcased and interviewed on television, in newspaper articles both locally and nationally, and has actually performed magic on the radio. He has acted as a magic consultant for the Tony Award winning Trinity Square Repertory Company as well as for numerous other professional, college, and amateur theatre groups for whom he performed or taught magic for their productions and created special magic effects.

Bruce is a very versatile performer; he is able to adapt to any possible stage setting or audience. That is why companies like Microsoft, CBS Records, Showtime Cable Network, General Electric, AT&T, Coca-Cola, Dave and Buster's, Johnny Rockets and Marriott Hotels have utilized his talents and ideas.

Bruce has taught his craft at the University of Rhode Island, Rhode Island College, Johnson and Wales University (where he taught a special course on the use of magic to promote products), as well as many magicians' groups around the country where Bruce has shared his special secrets with fellow conjurers. He has even lectured and performed at The Magic Castle in Hollywood and London's prestigious Magic Circle.

Bruce was the National President of The Society of American Magicians in 2008-2009.

Two possible workshops if there is interest:

Restaurant Work Master Class - How to get a restaurant - What to do there - How to keep it. Usually we all have dinner in a restaurant and then do the class. All participants get my popular RESTAURANT PORTFOLIO book. This class is ideas for not only magicians, but also face painters, balloon artists, etc. Price $35 per person- minimum of eight people

Balloon Art Class - Learn how to make popular, recognizable cartoon characters out of balloons. Based on my popular DVD's on the subject, all these balloons look complicated but can be made in less than three minutes. Minimum of eight people, $25 per person includes one of Bruce's Balloon DVDs
GEORGE SATERIAL - Wednesday, March 16, 2011


Where: Eddie's Trick Shop's Marietta Location
When: Wednesday, March 16, 7:00pm
Cost: $10 for Ring 9 members and $20 for guests

George holds the distinction of being the first and only magician in the world to receive the "Gold Medal of Excellence" from both the I.B.M. and the S.A.M. It's very rare that either award is given. In 20 years, they have been presented only 7 times combined! In fact, he won them both in the same year!

He was also a FISM winner for General Magic in 2000 in Lisbon, Portugal. And in 2006, he was awarded the Neil Foster Award for Excellence In Manipulation at Abbott's Magic Get Together.

This lecture is called "Timeless Magic", and it includes coin magic, a bill switch, comedy rope routines, and silk magic. He combines this lecture with concepts from his "Tips and Ideas" lecture including an easy-to-make match pull, and card production tips. The evening will cover all facets of magic including Stage, Parlour and Close-Up.

George has studied acting, voice, mime, and stage movement, and brings these disciplines together in his stage performances and in the lessons he shares during his lecture. The first half of his lecture includes the performance and explanation of several of George's working routines. In the second half, he focuses on the stagecraft techniques that have earned him some of the highest awards in magic. You are sure to learn something that will significantly improve your performances.
Kozmo - Monday, January 31, 2011


Kozmo's lecture is titled "More Than Just Magic Tricks". We all saw him recently on the cover of Magic Magazine. He is considered an expert on Street Magic, and recently released a DVD containing his expert advice. Now, he's coming to Atlanta to teach us all the finer points of attracting a crowd, keeping the energy level high, designing an effective street act, and how to increase your tips.

The lecture will begin with a Performance of his Full Street Magic Act! Kozmo will then explain each effect in his Street Act, including descriptions of "why" he chose each effect and why he placed each effect where it is in his act. He will talk about street conditions, and how to increase the number and value of tips. You will learn how to make your magic performances play stronger, as well as psychological aspects of performance and audience management. In addition to all that great performance technique, we will learn these tricks and routines: Translocation Coins, Coins in The Cup, a Great Card routine, and Kozmo's full Chop Cup routine.

* Kozmo will explain how principals of performing on the street can also be applied to performing in Restaurants & Trade Shows! *

Where: Eddie's Trick Shop's Marietta Location
When: Monday, January 31, 7:00pm
Cost: $10 for Ring 9 members and $20 for guests


JONATHAN LEVIT - Monday, December 6, 2010
New lecture location!
Please RSVP to Evan Reynolds at magic@evan.org


Where: Eddie's Trick Shop's Marietta Location
When: Monday, December 6, 2010, 7:00pm
Cost: $10 for Ring 9 members and $20 for guests

You probably know him as the host of the television show Celebracadabra or in a reoccurring role in FlashForward. But he also performs frequently at the Magic Castle, and was recently on Fox's Masters of Illusion. And I was rather pleased to recognize him from an X-Files episode with Ricky Jay!

When Robert-Houdin said, "a magician is an actor playing the part of a magician," he had never met Jonathan Levit. If anything, Jonathan seems to be more of a magician playing the part of an actor. He is known as an actor, television host and magician. He first received notoriety for his starring role in "The X-Files", playing opposite Ricky Jay. He has since gone on to appear in numerous films and guest starring roles on television. Recently, Levit was seen in his role as Martin Dewey, the LA County Coroner on ABC's "FLASH FORWARD." He also served as magic consultant to the series. In addition to his acting roles, Jonathan has appeared on Fox's "MASTERS OF ILLUSIONS" and as the host and a judge on VH1's magic reality series – "CELEBRACADABRA" He has also hosted shows for Discovery Channel's "MIRACLE HUNTERS" and "WIRED NEXTFEST," Equator HD's "GREEN WHEELS," Biography Channel's "PARANORMAL U.S.A." and Fine Living Network's "GREEN WITH ENVY." As well as performing and acting, Jonathan is also producing and hosting a new series entitled "CAREER DAY."

Teller of Penn & Teller says "Jonathan is funny, elegant, and disturbingly smart. Like something cuddly with really sharp teeth."

Jonathan's Levit's "Moving the Moment" Lecture consists entirely of high-impact, visual magic. This is the material he uses to make a living and has been audience tested and honed over hundreds of performances. He will discuss the importance of audience connection, performance, presentation and timing within the structures of magic effects and routines. Several effects will be performed and explained to illustrate Levit's thinking with relation to these topics. Among these will be effects directly out of his professional routines. No secrets will be withheld! In addition to the effects taught, he will also perform and explain in detail the work behind his popular coin matrix ("Un-Matrix"). David Regal says of this routine, "A graceful commercial Matrix with a surprise climax that devastates audiences and deeply burns magicians." Also taught in the lecture will be Levit's opening card routine, taken straight from his professional Magic Castle Close up act. David Regal says of this routine, "A true miracle in Jonathan's hands. This is high impact mental magic boiled down to a crystalline purity."

As a bonus, Jonathan will perform his smash hit "Sanitized for Your Deception" as performed on Fox's Master's of Illusion."

What people are saying about "Sanitized for Your Deception": "This piece is that rare thing—a stand-up trick that can be successfully performed for a group of twelve of twelve hundred, one that requires nothing in the way of expensive props yet delivers many minutes of entertainment capped by a deeply baffling event." - David Regal "

"Sanitized for Your Deception should have been called Perfected for Your Performance. Its all there, the magic, the comedy, the situation: a brilliant routine direct from Jonathan's professional act. This practical little jewel is a great opportunity for any working magician." -Jim Steinmeyer "

"Jonathan gives you all the work on his feature routine. I have seen this piece live and on television... In the right hands this is a thoroughly entertaining and amazing piece of magic." Jeff McBride

"A modern presentational premise, funny audience participation, and the opportunity to kiss a spectator through a pane of glass. Plus wetnaps. What more could you ask for?" - Max Maven
Geoff Williams- Sunday, October 3, 2010
There will be a full show preceding the lecture.
View Download Show Flyer Here


Where: Academy Theater

When: Sunday, October 3, 2010
... Pre-show Close-up magic @ 5pm
... Show @ 5:30pm

Cost:
... Show: $8 on-line or $10 at the door
... Lecture: $10.00 for Ring 9 Members In Good Standing, $20.00 for Non-Members and Guests

Get set to learn some KILLER, and surprisingly-easy-to-do, COMMERCIAL material. Something for absolutely EVERYBODY, close-up & parlour, ALL skill levels, cards, coins, rubber bands and LOTS of miscellaneous ideas & tips to improve what you already do and to make your performing life MUCH easier.

Just a few of the highlights in this lecture:

-- The 'I Hate David Copperfield' Trick", an eye-popping version of Jennings' "Close-Up Illusion" - was on Penguin Magic's top ten list for nearly ALL of 2009

-- an incredibly easy (but shocking) bit of magic - the PERFECT OPENER for any show

-- a wonderful 3-phase, 8-card NO-SLEIGHT "Oil & Water" routine that looks UNBELIEVABLE

-- the COMPLETELY CLEAN vanish of a half dollar (and it's INSTANTLY REPEATABLE)

-- E.A.R./ELECTRICAL ARTLET: two miracles that rely almost entirely on SOUND (and real reputation-makers)

-- one of the EASIEST (and certainly the CLEANEST) "Torn & Restored Card" effects ever! No tricky sleight of hand on this one (uses a Juan Tamariz concept in a very different way!)

-- an astounding, impromptu, NO-SLEIGHT card trick that uses subtlety (and some verbal linguistics) to DEVASTATE your audience!

Some LEGENDS in magic (Fantasio, John Mendoza, J.K. Hartman, Bob Wagner and others) have given permission for variations of some of their miracles to be included here. No pipe dreams or untested, confusing disappointments to waste your time - these are POLISHED GEMS I rely on for my professional stand-up and close-up gigs. Super easy to do but have a MAJOR IMPACT on lay audiences and magicians alike, I GUARANTEE you'll take away something from the lecture that you can put to use IMMEDIATELY!

Skill level required for most of the tricks: beginner to intermediate. There are NO second deals, one-handed top palms, multiple-coin classic palms or pipe dreams of ANY kind here. All effects are direct from my strolling and parlour repertoires and are no nonsense, do-able, real-world workers (that appear to be much harder than they really are)! I can assure you that magicians of all skill levels will have fun playing with the moves and ideas in this lecture.

ENDORSEMENTS:

"Hello I just wanted to let you know how much I enjoyed your performance and your lecture at magifest... Top notch. It was the highlight of the whole convention for me."
-- ERIC D.

"Thanks for putting on a great lecture for our Ben Bergor Ring #31 Magic Club here in Madison. Your lecture had a lot of fresh new ideas and routines! You're a very entertaining lecturer. I had nothing but positive feed back from everyone that attended!"
-- WAYNE P.

"As a fellow magician that also does comedy magic, I was very excited to learn from your lecture in Tulsa, OK, and found it to be one of the most informative lectures I have attended in my short 6 years in magic. Your sense of humor applied to magic was right-on! I hope to be able to apply your approaches to using laughter into my magic. I loved your Everything's A Radio trick."
-- CHUCK L.

"Hey Geoff, I had a few friends go to the PCAM on the cruise and said you were the hit of the convention."
-- TYLER W.

"I would like to say that I am a voracious reader of magic literature, reading hundreds of titles each year, and have found more usable material in your lecture notes (for me personally) than in any single source in recent memory."
-- CHRISTOPHER K.

"Got the set of notes in the mail yesterday. WOW! I've been in magic for many years and rarely do I get excited about lecture, but MAN, these notes are GREAT!" -- TOMMY J.

"Wow."
-- an attendee at the St. Paul lecture

About Geoff Williams (if you're not familiar with him):

Geoff has won over two dozen magic and comedy awards, in both stage and close-up, in the 20+ years he's been performing for corporate and family audiences. His "Miracles For Mortals" DVD set has received rave reviews worldwide.

He has performed and lectured in Europe, South America and throughout the U.S., and is a regular performer at the world-famous Magic Castle in Hollywood. Recently, he was a featured performer in Australia (Adelaide Magic Convention), London (MacMillan Close-Up Convention) and on the Norwegian Pearl cruise ship (PCAM) sailing from Vancouver, Canada to Los Angeles. He received the "Top Contributor" award at last year's Carolina Close-Up Convention and was a HUGE hit at this year's Columbus Magi-Fest.

A Past-President of both I.B.M. Ring # 19 and S.A.M. Assembly 136, Geoff was also a mentor for the Society of Young Magicians in the Twin Cities. He is relocating to Treasure Island, Florida.
BANACHEK - Sunday, August 22, 2010


Where: Mt. Vernon Presbyterian Church - Choir Room
When: Sunday, August 22, 2010, 5:00 PM
Cost: $10.00 for Ring 9 Members In Good Standing, $20.00 for Non-Members and Guests

Twice named College Entertainer of the Year, Author of the highly acclaimed series of books titled "Psychological Subtleties". His DVDs and original work on "Psychokinetic Time" (altering the time on a spectator's watch) and "Psychokinetic Silverware" (fork and spoon bending) are legendary.

You know his brilliant work as one of Criss Angel's consultants on his A & E Mindfreak TV series! Please place Sunday August 22 on your calendar, and as soon as the venue becomes definite we'll let you know. Hope to see you all there!


Jeff McBride - June 11 & 12, 2010
JEFF McBRIDE is coming to Atlanta on June 11 & 12 to present a very special Friday Night and Saturday Afternoon triple event:
1) New 90 Minute "McBride UnMasked" Stage Show
2) New 2 Hour Lecture
3) New "Secret Session" 4 Hour Limited-Attendance Workshop
FRIDAY, June 11 at 7:00pm
-
90 Minute STAGE SHOW
at the Mt. Vernon Presbyterian Church
(Directions)
in Sandy Springs on the Fellowship Hall Stage.  This is his
solo "Magic UnMasked" show
he's been performing around the world in theaters, casinos and nightclubs, including a recent successful tour of Canada. 
We encourage you to invite your family and friends to enjoy this exciting theatrical experience.
Tickets for the SHOW are $30 per person.
Following the Show, that SAME NIGHT at 9:00pm on FRIDAY June 11, Jeff McBride will present his "For Magicians Only" LECTURE!
Tickets for the LECTURE are $30 per person.
Will Houstoun - Thursday, April 29th, 2010


"Out with the New, In with the Old"

In magic we are sitting on the cutting edge of a tradition that covers over five hundred years of written instruction. Despite this there is a tendency to focus on the "latest and greatest" within the magic community. In this brand new lecture Will looks backwards to previously unpublished material from the eighteenth and nineteenth centuries for inspiration to create effects that are as powerful today as any modern creation.

The material includes magic with cards, coins and other objects. Including magic suitable for both Close-Up and Parlour performances. Some of the material is taken directly from Will's books based on previously unpublished 18th and 19th century notebooks. Will will also teach a few modern creations including some of the material he used as a Headline Performer at The Magic Castle.

Will Houstoun is one of the real up and coming young talents from the U.K. He burst onto the Magic scene by taking third place in The International Magic Close-Up Competition, then went on to confirm his standing by taking First Prize in the European Magic Championships and winning the Magic Circle's Originality award. Will has lectured at a number of conventions and magic venues including The Magic Circle, The Magic Castle, The Las Vegas Magic Invitational, and the Los Angeles Conference on Magic History. He has a keen interest in Magic History and has written and published two books on historical magic. The Notebook is based on a handwritten document from the 18th century and describes 81 tricks that were in use at the time providing a unique insight on the development of card magic. Hellis in Wonderland describes the magic of Professor Hellis who taught Professor Hoffmann and who David Devant said was one of the finest conjurers he had seen. This book is based on a hand written document describing the magic Hellis used to teach when he gave magic lessons and provides unique information on magic in the late 19th century.

"I booked Will on his first US lecture tour and also at the LVMI close-up convention and I was blown away with all the great comments I received from clubs all over America. Will is a thoughtful, talented and accomplished magician and you will definitely benefit from seeing his lecture." - Danny Archer

"Will's lecture this evening was a great success, and everyone at the meeting was very impressed not only by his technical skill, which is formidable, but also by his ability as a lecturer to present his material in a lucid and entertaining manner. He's also a really nice guy!" - Pat Cross

"Will took questions from the audience but actually gave such very thorough explanations that he rarely left anything unanswered. There was never a feeling of inapproachability about what he did, although the moves and ideas were of a high skill level, they were designed to be understood and hopefully utilized by his audience." - Excerpt from a review in The Magic Circular

"I twisted my finger for a mixed audience of laymen and magicians. It got the exact response I wanted. Enjoyment, and revulsion mixed together." - Ray Kosby

"I thought the guy was a freak of nature, turns out he is just really good at what he does." - Stephen Bargatze

"A physical impossibility made possible. My eyes popped just seeing it!" - Chris Capehart

"One of the coolest things I saw at F.F.F.F. this year was Will Houstoun's FREAK...Very cool trick...it will definitely F.F.F.F.REAK you out!" - Cody S Fisher

"Card-trick aficionados and magic historians will be grateful that Will Houstoun has unearthed and published this centuries-old curiosity. Houstoun has done historians and card-magic lovers a great service by publishing The Notebook..." - Gabe Fajuri, Magic Magazine.

"The entire project is a treat - an inexpensive adventure in time travel for any reader with some imagination and a passion for card magic and, perhaps, an interest in its history. Climbing into its pages, we get to spend some time enjoying our shared passion with another enthusiast, who, far more like us than different, happened to be doing his tricks a couple of hundred years ago. If that isn't magic, I don't know what is." - Jamy Ian Swiss, Genii Magazine.

"Will's talk was a terrific detective story on a subject dear to many magicians' hearts." - Dustin Stinett, Genii Magazine

Where: Mt. Vernon Presbyterian Church - Choir Room
When: Thursday, April 29th, 7:00 PM
Cost: $10.00 for Ring 9 Members In Good Standing, $20.00 for Non-Members and Guests

Please share this info with your magician friends in and around the Atlanta area to suggest they attend... they will thank you!


Shoot Ogawa - Tuesday, January 12, 2010


Everyone knows Shoot Ogawa's reputation as one of the best young minds and performers in all of magic! Now, we have an opportunity to see him perform and teach us live, in Atlanta!

In 2002, he took first place in London's MacMillan International Magic Convention and amazed the magic world with his Doubled-Hand Matrix and Ninja Rings routines. In March 2003, Magic Magazine featured Shoot on the cover. In the same year, he was awarded "Magician of the Year" in the Close-up Category by the American Academy of Magical Arts.

Probably best known for his remarkable work with the Ninja Rings and his phenomenal version of Matrix and Coin in Purse, Shoot will teach all of that and more at his lecture. Please plan now to join us for this very special evening of magic in Atlanta!

Where: Mt Vernon Presbyterian Church  (Directions)

When: Tuesday, January 12, 2010, 7:00 PM

Cost: $10.00 for Ring 9 Members In Good Standing, $20.00 for Non-Members and Guests




Michael Weber - Tuesday, December 15, 2009


The final lecture of our amazing 2009 Lecture Series will be a phenomenal opportunity to learn from one of the best, a man who has traveled the world dazzling corporate audiences and sharing his amazing, inventive miracles with the magic community. Please join us for this unique opportunity to experience the talents and humor of the author of the highly-acclaimed book Life Savers, as he performs and teaches us his original magic and mentalism.



Why should you attend?:



* In his lecture, Michael demonstrates a Drawing Duplication so perfect that all you need is any four pieces of cardboard, and any four markers. No preshow, no glimpses, no nonsense.

* He will teach you how to learn a memorized deck in two minutes. With this method, you can instantly, easily and permanently know every card in order, the card at every number from 1 to 52 and the numerical and relative location of every card using any deck.

* We'll learn how to take a simple drawing of a spoon and visibly, magically and permanently bend it using a single business card and any pen or pencil.

Michael Weber's educational and entertaining presentations have been some of the best moments of every Magic Live convention in Las Vegas. They are consistently "the" talked about segments of that phenomenal conference! His original creations have been featured in Hollywood blockbusters including Forest Gump, The Prestige, The Illusionist, and Ocean's 13; as well as for the Tony Award-winning play Angels In America.

This lecture is a rare opportunity to learn from a world-renowned magician, in between appearances in Europe and Canada, and recent feature articles in Omni Magazine and the Los Angeles Times.

Where: Mt. Vernon Presbyterian Church - Choir Room

When: Tuesday, December 15, 2009, 7:00 PM

Cost: $10.00 for Ring 9 Members In Good Standing, $20.00 for Non-Members and Guests

Please share this info with your magician friends in and around the Atlanta area to suggest they attend... they will thank you! This is seriously a NOT-TO-BE-MISSED evening!


Karl Hein - Thursday, November 5, 2009
Time: 7:00 pm
Where: Mt Vernon Presbyterian Church  (Directions)
Cost: $10 for Ring 9 members, $20 for guests

KARL HEIN, inventor of the VERY popular Heiny 500 visual bill transformation, and the Heinstein Shuffle, a renowned in-the-hands false shuffle will present his all new lecture.

He has a lot in store for us! Karl will cover both of those inventions he is best known for, and promises to teach us the handling of his Heiny 500, a true reputation maker; and to share the real work on his false shuffle that impressed some of the best minds in close-up magic! Plus, he's got a great rope routine perfect for family shows, lots of card magic, coin magic, and more. He's a working performer (based in the Fort Lauderdale area) and he travels all over, so he's promised to not only talk about the tricks, but also about his theory on effective presentation skills. This lecture covers Close-Up Magic and Stage/Parlour Magic. His lecture has received great reviews from many magic clubs, magic shop owners, and several top magicians, and so we should be in for a fun evening!


Paul Gertner - Tuesday, October 6, 2009




Time: 7:00 pm
Where: Mt Vernon Presbyterian Church  (Directions)
Cost: $10 for Ring 9 members, $20 for guests

This BRAND NEW Lecture is
"Original Instructions NOT Included"

In this one-of-a-kind lecture, Corporate Magician Paul Gertner will have you taking a second look at magic that you have purchased, played around with and then placed back on the shelf.

As Paul explains:
"There are many ingenious props and devices that have been invented by some of the most brilliant minds in magic but all too often magicians stop thinking as soon as they open the box. They assume all the thinking has been done for them, but that is NOT the case. In this lecture we take a look beyond the "original instructions" and discover that any good magic effect has more potential than most of us see at first glance, if you add your own unique touch!"

By sharing a number of his favorite marketed items, including some you probably already own Paul demonstrates that with a little creativity you can breath new life into an existing effect, bringing it and your magic to a higher performance level. The selected effects include some that Paul has used to deliver business-marketing messages at both trade shows and sales meetings around the world including a few unpublished routines from Paul's corporate working repertoire.


At every lecture Paul also performs an opening Close-Up Show which includes a performance of his classic routines including among others The Cups & Steel Balls, Unshuffled and That's Ridiculous. Paul also takes questions on any subject and will share his 30+ years of experience in the area corporate magic and trade shows, which is where he has made his living since he was 19 years old.

We all know his reputation! And he hasn't been in Atlanta in quite a few years! This is a great chance to learn in person from one of the most well-respected and most successful magicians in the world! He is author of one of the fastest selling books in magic history, "Paul Gertner: Steel & Silver", which has also been released on DVD in a four-volume set. Paul's original close-up magic has won First Place awards at every major magic competition including FISM, I.B.M. National Convention, S.A.M. National Convention, and he was the winner of the first Siegfried & Roy Gold Lion Award for close-up magic at the $10,000 Las Vegas Desert Magic Seminar Sleight-of-Hand Challenge.

Time: 7:00 pm
Where: Mt Vernon Presbyterian Church  (Directions)
Cost: $10 for Ring 9 members, $20 for guests


Jay Sankey - Thursday June 25 2009


We are pleased to announce our June 2009 Lecturer will be JAY SANKEY!

Those of you lucky enough to have seen Jay lecture before know how funny he is. His lectures always provide the fabulous combination of being thoroughly entertaining PLUS the opportunity to learn great magic and mind reading. His last Atlanta lecture (back in 2004) was a huge hit!

An amazingly prolific magic inventor, he has a huge following of fans worldwide. Jay has produced a significant number of tricks and routines ranging from close-up magic, to stage magic, to mentalism. A fabulously entertaining lecturer, he keeps his audience in stitches with his comedic antics, while he dazzles us with his phenomenal magic and mind reading. His book, "Beyond Secrets" is a thought-provoking exploration into the technical and psychological aspects of creating and delivering mind-blowing material and performances.

For those of you who haven't seen Jay lecture, you're in for a real treat. He is soooo funny, unbelievably creative, and his lectures always provide a ton of valuable contents for everyone from hobbyists to part-time pros, to the full-time performers looking for some new quality material. So be sure to place Thursday, June 25th on your calendar, and come laugh, learn, and have a great evening out with one of magic's most entertaining lecturers!

Time: 7:00 pm
Where: Mt Vernon Presbyterian Church  (Directions)
Cost: $5 for Ring 9 members, $15 for guests


Michael Ammar - Sunday May 31, 2009


Time: 7:00 pm
Where: Mt Vernon Presbyterian Church  (Directions)
Cost: $5 for Ring 9 members in good standing, $20 for non-members and guests
(Pre-Lecture Private Workshop additional fee, see below)

One of the premiere magic teachers in history... a celebrated FISM winner... and one of the most prolific authors and educators in our industry, Michael Ammar has traveled the world performing and teaching his entertaining magic to the international magic community.

We are VERY excited to announce that as a rare treat we are bringing Michael Ammar to Atlanta as our special guest star May 31st lecturer!! An opportunity to meet him, watch him perform, and learn from him in person and up close... right in your own backyard!

* Named by Magic Magazine one of the 100 MOST INFLUENTIAL MAGICIANS of the 20th Century!

* His book, "The Magic of Michael Ammar", became the fastest selling magic book in history!

* Headliner at Caesar's Magical Empire!
* 10 Appearances on the Merv Griffin Show!
* 2 appearances on The Tonight Show Starring Johnny Carson!

* Created the entire outline and questioning structure for the 17 videos in the Revelations Series, featuring his friend and mentor, Dai Vernon!

This new lecture contains material NEVER taught before in any format! Plus, wait until you see Michael's NEW method of supplementing his lecture with big, multi-media Super Practice-type sessions. This is an exciting improved lecture format that Michael has been dreaming about for more than 20 years!

Just one of the things you'll learn at this lecture is Michael's "Bill to Lemon Closer" - this is the way Michael has been closing his show with for the past 25 years. And everyone has been raving about the incredible new card magic he's been teaching in this lecture, a great handling with the Albo Card (David Blaine will feature this on his next special), and new effects using any iPhone or cell phone! You will learn a new principle in card magic. You'll be able to perform this almost immediately and it looks so amazing you'll fool yourself in the mirror! You will learn classic renditions of some of the most commercial material around, plus new material, never published in any medium!

Along with a couple of his signature effects you'll see a surprising range of Close-up and Stand-up magic designed for real people in the real world, using everyday objects.



* * * * *

PRE-LECTURE LIMITED-ATTENDANCE PRIVATE WORKSHOP
Presented by Michael Ammar at 5:00pm Sharp!
Prior to his 7:00 Lecture
$40.00 Per Person




The Private Workshop is an intense 75 minutes of hands on training with Magic Superstar Michael Ammar. He comes prepared to teach several effects using cards, coins and rubber bands, PLUS, Michael remains open to any questions or special requests made by the workshop attendees. All workshop contents will be different than magic covered during his 7:00 lecture, so workshop attendees should definitely plan to stay for both events.

Special for Ring 9's Workshop -- We have requested that just for us, Michael will include a special section of the workshop on the Topit! He will teach basic topit uses and techniques. This portion of the workshop will be facilitated by precut paper Topits he will provide, to be temporarily taped inside everyone's jacket during the workshop!



Advance workshop registration is necessary due to the nature of this private learning experience. Email

Debbie@MagicDebbie.com

to reserve your spot in the workshop, and for pre-registration details.

* * * * *